Put your iPhone camera to good use with these easy-to-use tripods
  If you use an iPhone as your main camera to capture video or take photos, propping it up with a dedicated tripod is the only way to get truly stable, professional-looking shots.
  Luckily, there are plenty of options out there for those who want to do so. More traditional tripods are able to sit comfortably on the floor and extend all the way to meet your own height, while others are smaller, desk-ready options that can also be carried around to add more front-camera stability for vloggers.
  Some even come with a ring light, giving you perfect lighting wherever you find yourself, and others may also include attachments for DSLRs.
  To help you discover which iPhone tripod is right for you, we've compiled some of the best options, testing them for their ease of use, and for how adaptable they are to different shooting conditions.
  Whether they bring extra attachments and lights with them is part of our consideration, alongside the build quality and materials, all of which contribute to a sense of how long you can expect to be able to rely on the hardware.
  Our top pick is the UBeesize Selfie Stick Tripod. Other good tripods to check out are the UBeesize Selfie Ring Light with Tripod Stand, Linkcool Octopus Phone Tripod, Amazon Basics Lightweight Tripod, and Linkcool Camera Tripod.
Our Top Pick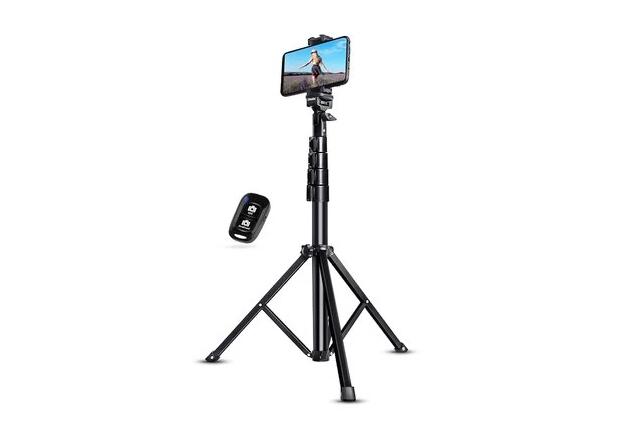 UBeesize Selfie Stick Tripod
  For
  Great height
  Changes to selfie stick
  Rotates nicely
  Against
  A little chunky for going on the move
  The ideal device for those who want more than just a tripod in their arsenal, this pick allows users to seamlessly flick between stable shots and a selfie stick.
  It's the perfect double-up for content creators who want to vlog and take selfies without separate devices, with the tripod ale to extend to 51-inches. The neck is also able to rotate 180-degrees, and the head can spin the full 360-degrees.
  The hands-free action doesn't end with the mounting, either, with the wireless remote allowing you to snap images from up to 30 feet away.
  iPhone tripods we also recommend
Here are four other iPhone tripods that you should check out.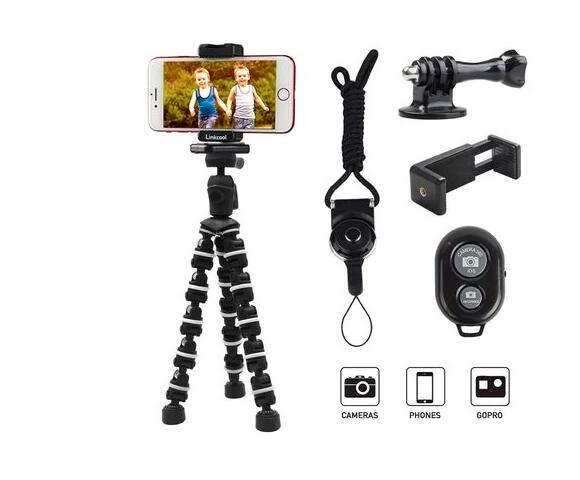 Linkcool Octopus Phone Tripod
  For
  Loads of options
  Ideal for outdoor use
  Remote control
  Against
  Obviously doesn't get far off the ground
  Linkcool's small, bendy tripod is perfect for vloggers constantly on the move, remaining compact in use and able to adapt more easily to your space than a traditional design.
  The tripod's feet are non-slip, which means you don't have to faff around getting it to stay in a particular spot to remain stable, and the Bluetooth remote means you can snap images up to 30 feet away from your device.
This pick also comes as a bit more of a complete kit than others, giving you attachments for use with a DSLR, as well.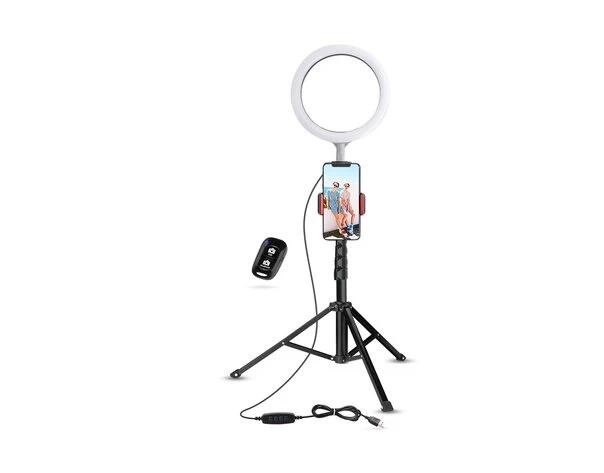 UBeesize Selfie Ring Light with Tripod Stand
  For
  Great even lighting
  Wireless remote
  Easy to set up
  Against
  Better for indoor setups
  Still fairly big
  Ubeesize also has an option for those who require peak lighting at all times, with this tripod offering both a front-facing mount for the iPhone and a ring light behind.
  It's a perfect combination for MUAs and content creators who need a dressing table or desk-ready mount that can easily gain power from a USB outlet.
  To keep things completely hands-free, the wireless remote also allows you to snap a photo, while lighting levels can be adjusted on the cable's module.
  Amazon Basics Lightweight Tripod
  For
  Great value
  Works with other devices
  Can get impressively tall
  Against
  Need a separate phone grip
  Amazon Basics' offering may not be made exclusively for smartphones, but we'll include it here because it's an affordable solution for those who need a traditional, standing tripod that can double up with the right attachments.
  Out of the box, this is great for DSLRs, weighing just over a pound, featuring a three-way tilting and swivelling head, and measuring 50-inches.
  With a simple iPhone tripod attachment, this can be the ultimate standing tripod for those who need stable and hands-free shots from both.
  Linkcool Camera Tripod
  For
  Elegant design
  Lightweight and easy to carry
  Against
  Not flexible
  If you're looking for a lightweight standing tripod that's still able to remain relatively portable, Linkcool has a top option for you to consider.
  Its height can range to 42-inches, it weighs 420g and is compatible with all iPhone devices and DSLRs, and GoPro cameras.
  You also get plenty of freedom of movement, no matter which camera you're shooting from, with the top of the tripod fixed with a 360-degree panoramic ball head.
  How to choose a tripod for your iPhone
  There are a few main considerations that you should have in mind as you work out which tripod is best for you:
  Where will you be using it?
  This is the biggest question, for us. Are you planning to use the tripod as a vlogging grip, or perhaps as part of a fixed inside studio setup? Do you want it to be mega-portable, or is it more important that it's really sturdy? The answers to all of these are likely to depend on how you'll be using the tripod, so be sure to think about this before you choose one.
  How big should it be?
  Trips are really useful for shooting videos or stills, but their practicality is partly dependent on their measurements. Some of those featured above have short, stubby legs that can grip onto things but won't elevate your phone much. Others have telescoping legs that can get you eye-level shots, and you'll want to know which you'd prefer.
  Do you need other attachments?
  Depending on what you're shooting, you might not need anything other than a tripod, but if you want to add microphones or LED lights to the situation for better conditions, then have that in mind when you purchase your stand. After all, better to pick up something that leaves room for more attachments than face buyer's regret later.