Kobo's book store, eReaders and mobile phone apps form the best alternative to the Amazon Kindle 's ecosystem. The Kobo eReader Touch isn't simply the Kobo Wireless eReader with a touchscreen, though, the hardware is very different.
The most obvious change is the lack of buttons - there's a single button underneath the screen that takes you back to the Home page, but otherwise everything's done by touch. Although it has the same 6in screen and 600x800 resolution, the eReader Touch is much smaller than the Wireless eReader. A microSDHC card slot replaces the SD card slot on the larger device, and there's a microUSB port instead of a miniUSB port. This is a good choice considering the EU's move to microUSB as the standard for charging mobile devices.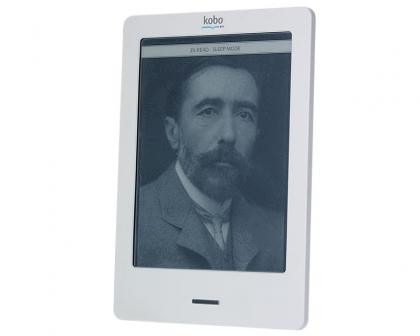 The eReader Touch can be stocked with eBooks via USB or Wi-Fi, although to load other files you'll need to use Windows Explorer and find the attached drive. Unlike the Wireless eReader, the Touch supports text, HTML, Rich Text Format and MOBI eBook files. It even reads Amazon's AZW files - although not those with DRM protection, just the ones downloaded from the Gutenberg Project. We found HTML files caused some slow-downs, but otherwise all our test files loaded correctly.
The Home screen displays the covers of recently opened books. This works for formats such as ePub that have a cover image attached, but our HTML eBooks just displayed a generic book icon. A menu at the top of page links to your library, the store and Kobo's Reading Life section, which is a social networking add-on that lets you unlock achievements, much like a game.
Reading books on the eReader Touch is one of the best eBook experiences we've had. Not only are page turns snappy, but you can either swipe to turn or just tap on one side of the page. Tapping in the middle of the page brings up a menu which you can customise. It's possible to make either the left or right side areas larger, which would suit left- or right-handers who want to hold the device on one side only.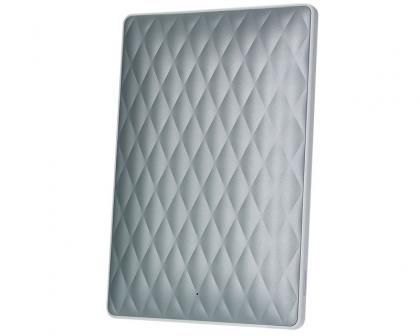 Not only can you change text size, but you can also change the font face (there's a choice of seven fonts, both serif and sans serif), line spacing, margin size and justification. Jumping pages is achieved via a slider, with arrows for fine adjustment and an undo button so you can go back to the page you were reading.
You can use the menu to look up or translate words, but it's easier to simply long-press on a word, which brings up draggable bounding boxes so you can select a phrase. Sadly, this doesn't work in all eBook formats. Closing a book adds a bookmark, but you have to press the sync button on the home page to synchronise your bookmarks with your other devices.
Considering all its features, including social networking and a more intuitive touch interface, the Kobo eReader Touch is worth the extra £20 over its sibling, but it's worth noting that Amazon will shortly launch the Amazon Kindle Touch , so you may want to wait and find out how much it will cost. However, if you don't want to be tied into Amazon's system, it's the best-value alternative, and wins a Best Buy award.
| | |
| --- | --- |
| Details | www.kobobooks.com |
| | |
| --- | --- |
| Native resolution | 600x800 |
| | |
| --- | --- |
| Memory card support | microSDHC |
| | |
| --- | --- |
| Wireless networking support | 802.11n |
| | |
| --- | --- |
| eReader Amazon AZW support | no |
| | |
| --- | --- |
| eReader Microsoft Word support | no |
| | |
| --- | --- |
| Audio WMA-DRM playback | No |
| | |
| --- | --- |
| Audio Protected AAC playback | No |
| | |
| --- | --- |
| Audio Audible playback | No |
| | |
| --- | --- |
| Supplier | http://www.whsmith.co.uk |
| | |
| --- | --- |
| Details | www.kobobooks.com |