Not long ago I reviewed the Kobo Forma , the most expensive of Rakuten's Kobo lineup. It's an excellent ebook reader but fails to pose a real threat to the luxurious Kindle Oasis from Amazon. Now I've got my hands on the Kobo Clara HD, which was released in June 2018, shortly before the Kobo Forma. The Clara HD is Kobo's mid-range device, and it too takes aim at an Amazon product, this time the Kindle Paperwhite (2018) .
It looks like the Paperwhite, its price is closely matched, and it even has the same display size and aspect ratio - to call it a Paperwhite clone wouldn't be unfair, then. There are, however, a number of features that the devices do not share. Which one you buy depends on what kind of ereading experience you're after. To find out more, eread on.
READ NEXT: Best ebook reader: Kindle vs Kobo
Kobo Clara HD review: What you need to know
The Kobo Clara HD is an ebook reader with a 6in, 300ppi (1,440 x 1,080) E Ink Carta touchscreen. The display has several front-light LEDs and, like the Kobo Forma, it uses customisable ComfortLight Pro technology to reduce blue-light exposure. There's only one configuration available and it has 8GB of non-expandable storage that Kobo estimates will hold up to 6,000 ebooks.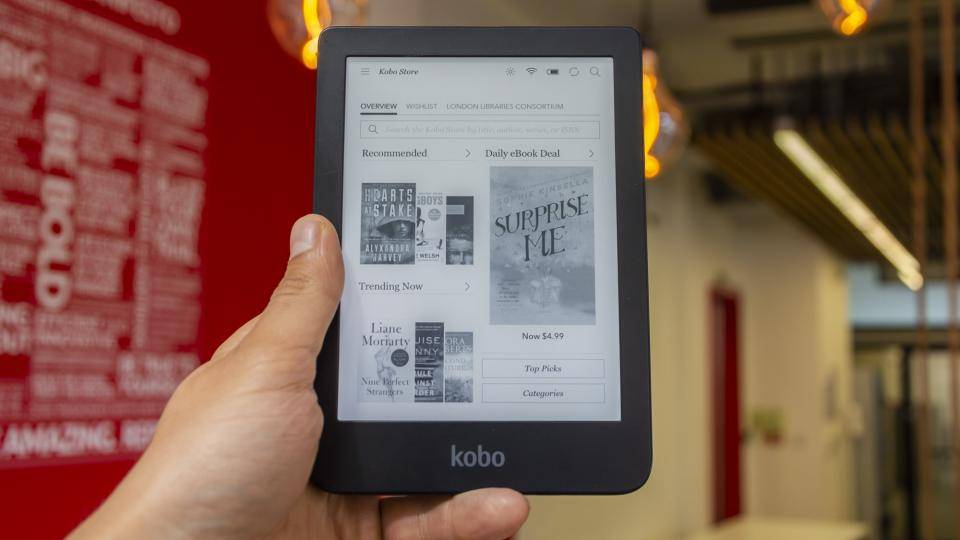 Weighing just 166g and measuring 159.6 x 110 x 8.35mm, it's small and light enough to slip into a coat pocket, and its 1,500mAh battery should last for weeks. Multi-linguists will be pleased to know that, in addition to English, it supports nine languages including French, German and Japanese. Kobo devices natively support fourteen file formats and, using OverDrive, they provide access to ebooks borrowed from public library services.
Buy now from Argos
Kobo Clara HD review: Price and competition
Rakuten sells the Kobo Clara HD for £110 , and it's also available to buy from Argos for the same amount. In this price range, there really is only one rival and that's the latest Kindle Paperwhite, the mid-tier device in Bezos' ebook empire. Where the Kobo Clara HD has a fixed price of £110, though, the Paperwhite fluctuates based on the model.
The cheapest Paperwhite costs £120 and has 8GB of storage, same as the Clara HD, but comes with "special offers", essentially adverts that appear whenever the display is off or sleeping. The Clara HD is blessedly free of these promotions, and it costs an additional £10 to get a Paperwhite without them, bringing its price up to £130.
There is a 32GB configuration of the Paperwhite too, plus the option to add 4G connectivity that enables users to download content on-the-go without paying connection charges. Tally all that up, and you can spend as much as £220 on an Amazon Kindle Paperwhite. What's better, though, the Clara HD or the Paperwhite? Well, it really depends. Each one has something the other wishes it did.
For a start, the Paperwhite is IPX8 waterproof so it can withstand an accidental dunk in the bath, something which would surely spell the end for the non-waterproofed Clara HD. Secondly, the Paperwhite can download Audible audiobooks and play them via Bluetooth speakers or headphones, scoring another point over its Kobo rival. On the other hand, the Clara HD has ComfortLight Pro technology that eliminates the emission of sleep's worst enemy, the dreaded blue-light. Kobo ebook readers also support extra file formats, including epub, and this gives readers more freedom over where they choose to download ebooks. What they don't support, however, is ebooks from Amazon, which could be a deal-breaker if you're already a part of the Bezos ecosystem.
Kobo Clara HD review: Design
As discussed earlier, the Kobo Clara HD looks remarkably similar to the Kindle Paperwhite. Swap the Kobo and Kindle names around (both are displayed on the bottom bezel) and you'd be fooled for a good few seconds. The Clara HD has an all-black matte chassis made of plastic, with its 6in display slightly inset behind the bezels. I prefer the Paperwhite's design here, where the bezels are flush with the display.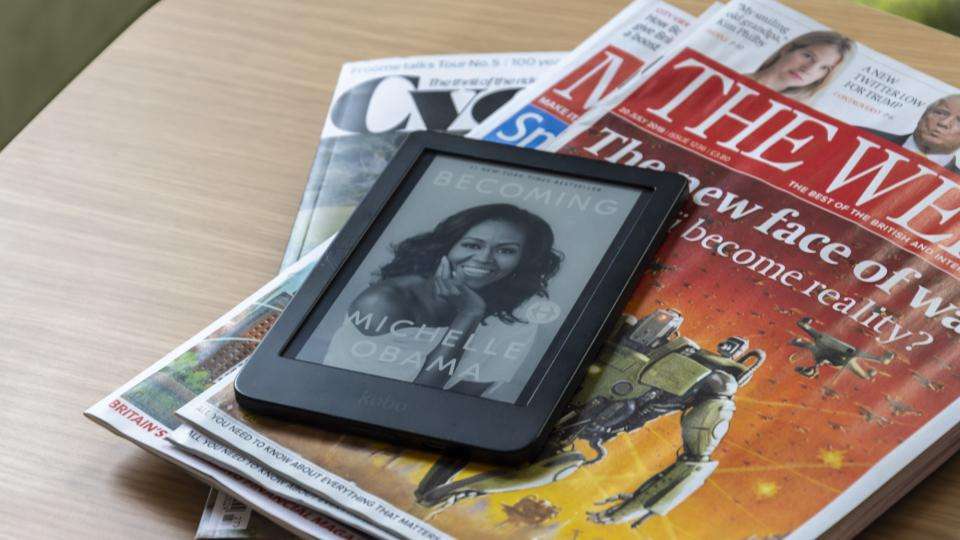 It's an uninspired design, really, although there's no ebook reader out there that's going to take your breath away. The main problem is not with how it looks but how it feels. The Kobo Forma has a rubberised layer across much of its surface but there's none of that here, and it's a bit too easily dropped when being jostled by commuters on a packed train. Equally annoying, the back casing is pockmarked with literally thousands of small, hollow craters. This is a silly design choice, as they inevitably trap dust and debris and it's difficult to properly clean them out.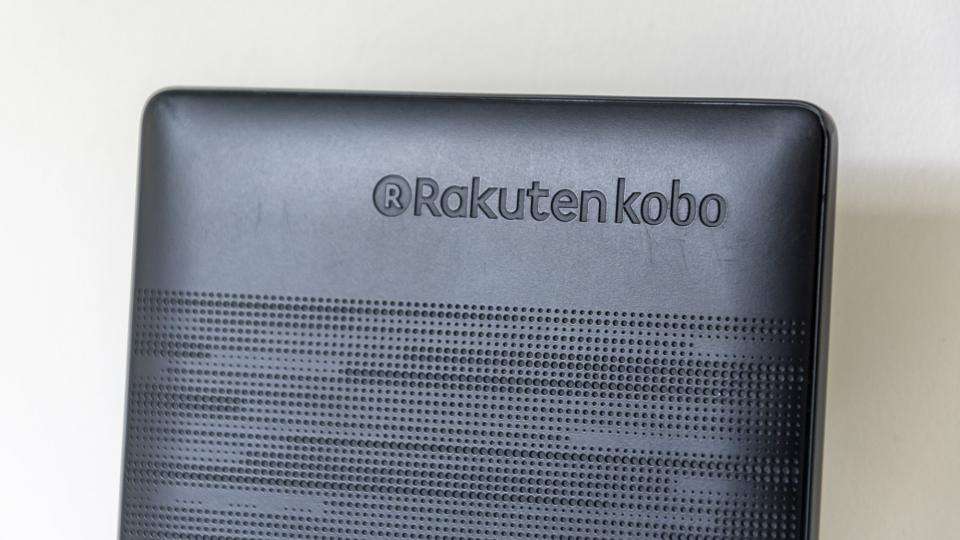 As on the Paperwhite, the Clara HD has no page turn buttons, so you have to swipe with the touchscreen to progress through your ebooks. There's a single port for the microSD charging cable, and this sits next to the power button on the bottom edge.
Buy now from Argos
Kobo Clara HD: The reading experience
Anyone accustomed to using an up-to-date smartphone will feel like they've travelled back in time when using the Kobo Clara HD. It's slow to respond as you browse between menus, and searching for books within the Kobo Store requires a not insignificant level of patience. This sluggishness applies to all ebook readers, really, because they're all equally low-powered compared to the typical modern tablet or phone.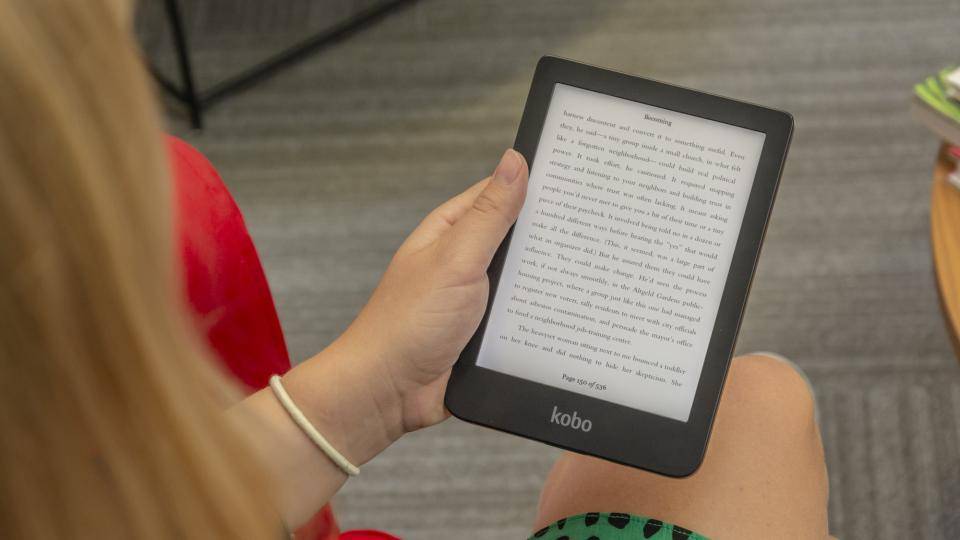 To browse ebooks more quickly, I'd suggest logging into Kobo on a PC. This is a much faster way to get what you're after, and there are more search filters on the website than on the device itself, which makes it easier to find free ebooks. The Kobo Store has over five million titles to choose from, so it's unlikely you won't be able to find what you're after. Having made your selections, you can then just tap sync on the Kobo Clara HD (so long as it's connected to Wi-Fi) and the titles will download to your device's library.
Reading on the Kobo Clara HD is a pleasant experience, if not as enjoyable as on the Kobo Forma. It's light so you can hold in one hand for any period of time without strain, and turning pages just requires a quick flick of the thumb in the desired direction. Occasionally it misreads the swipe and turns backwards rather than forwards though, something that could have been avoided with physical page turn buttons.
The 300ppi display is incredibly crisp and, thanks to the customisable lighting, I never experienced any eye strain. Fonts are highly adjustable. There are 12 to choose from, including a dyslexic-friendly font called OpenDyslexic, and font sizing, line spacing and justification can all be toggled to suit your preferences. Kobo provides lots of detailed statistics on your reading behaviour and these can be accessed with a quick couple of taps while reading. Alternatively, you can ignore all this and make the interface as clean as possible, removing the header, footer and page numbers. Holding down on a word brings up the Merriam-Webster definition, and the dictionary comes in six languages.
Buy now from Argos
By far my favourite part about reading on the Kobo Clara HD compared to, for example, the Kindle Paperwhite, is its ComfortLight Pro technology. The Clara HD has 13 LEDs in total; it uses white LEDs for standard front lighting and orange LEDs for warm or 'natural' light. Punch in your bedtime and the ComfortLight will slowly but surely take over as the clock ticks down towards evening. This happens gradually and is barely noticeable.
Sometimes, when I wanted to go to bed earlier, I manually lowered white light and cranked ComfortLight right up to achieve that sleepy candlelit look. None of the Kindle ebook readers has technology approximating ComfortLight, but that's about to change: the next Oasis model will have an 'adjustable warm light' . And the current-gen Kindle Oasis does use an ambient light sensor to automatically lower brightness depending on lighting conditions, although this does not eliminate blue-light as effectively as the ComfortLight Pro.
Kobo Clara HD review: Verdict
So let's imagine you've committed to buying an ebook reader and your budget is somewhere in the £100-£130 range. By now you'll know that you have two options to choose from, the Kobo Clara HD (£110) or the Amazon Kindle Paperwhite (from £120), both of which have their merits and, indeed, their flaws. Neither is technically superior and in the end, it just depends on what type of experience you're after.
Those who love a leisurely bathtub read will have to go for the Paperwhite because it's waterproofed, while bookworms who prize their sleep above all else should opt for the Clara HD with its ComfortLight Pro technology. Unless you happen to be the musician Grimes - who has recently undergone experimental eyeball surgery to block out blue-light - then that's what the decision boils down to.
Sure, the Paperwhite has audiobook integration which the Clara HD lacks, but it's easier to use the Audible app on a smartphone anyway, especially since the Paperwhite has no headphone jack. And where the Kindle family has only a few natively supported formats, the Kobo devices have over a dozen. Whatever you choose, though, you're unlikely to regret the decision, because they are both excellent ebook readers in their own right.
Koba Clara HD specifications
| | |
| --- | --- |
| Display type: | Carta E Ink |
| | |
| --- | --- |
| Display resolution: | 1,440 x 1,080 |
| | |
| --- | --- |
| Size (WHD): | 159.6 x 110 x 8.35 mm |
| | |
| --- | --- |
| Format supported: | EPUB, EPUB3, PDF, MOBI, JPEG, GIF, PNG, BMP, TIFF, TXT, HTML, RTF, CBZ, CBR |
| | |
| --- | --- |
| Languages: | English, French, German, Spanish, Dutch, Italian, Brazilian, Portuguese, Japanese, Turkish |
Koba Clara HD specifications
Display size:
6in
Display type:
Carta E Ink
Display ppi:
300ppi
Display resolution:
1,440 x 1,080
Storage:
8GB
Size (WHD):
159.6 x 110 x 8.35 mm
Weight:
166g
Format supported:
EPUB, EPUB3, PDF, MOBI, JPEG, GIF, PNG, BMP, TIFF, TXT, HTML, RTF, CBZ, CBR
Languages:
English, French, German, Spanish, Dutch, Italian, Brazilian, Portuguese, Japanese, Turkish
Battery size:
1,500mAh
Wi-Fi:
Wi-Fi 802.11
Ports:
microUSB