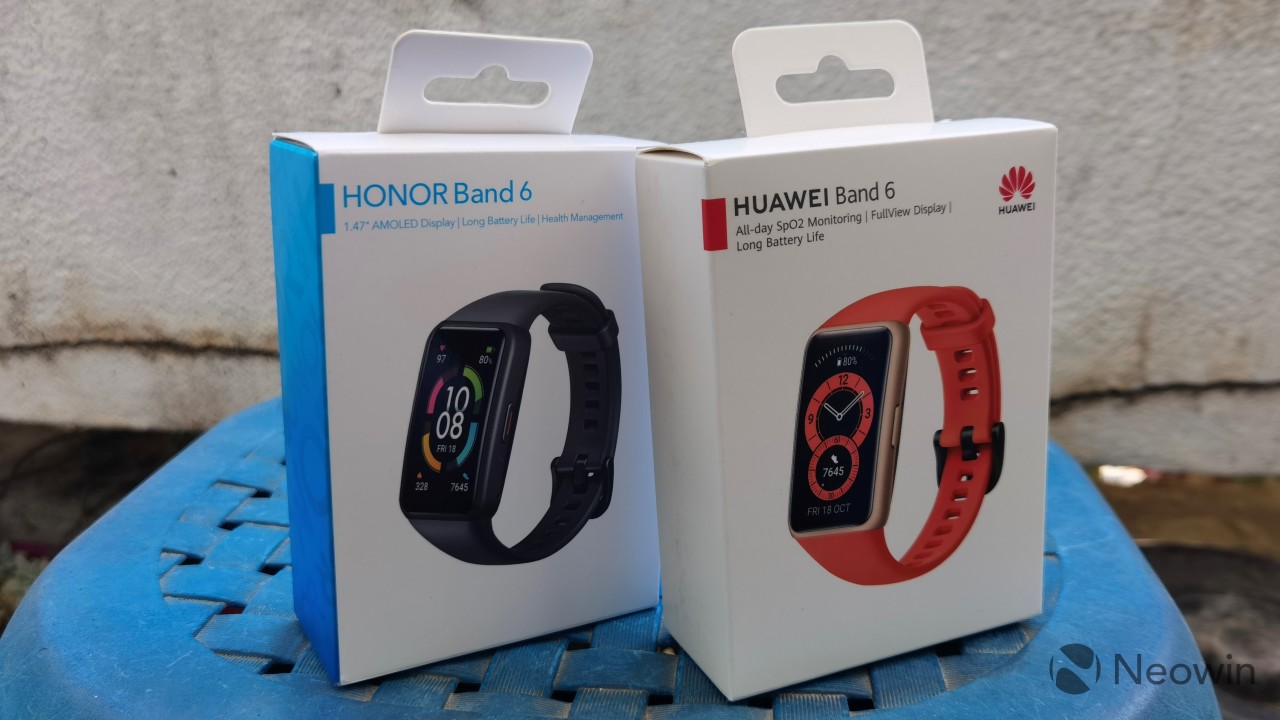 A couple of weeks ago, I got the chance to review the Honor Band 6, the first smart band from Honor since it officially split from Huawei a few months ago. Soon after that, Huawei reached out to me about the Huawei Band 6 straps, and to my surprise, the smart bands are still almost identical, though I suppose that's to be expected considering how little time has passed since the split.
  Regardless, I was interested in testing the Huawei Band 6 because there are some key differences that might make this a more compelling device, with the most notable one on the spec sheet being the additional sports modes available on the Huawei model, along with a higher price tag. Are the differences enough to justify the price hike? Let's find out.
  Compare Deals
  Design
  Like I said, the Huawei Band 6 is incredibly similar to the product from its former sister company in terms of design, and that goes right down to the packaging, which uses an almost identical template. I actually kind of prefer the more colorful look of the Honor Band 6's package, but that's probably a useless point to make.
  The smart bands themselves are also incredibly similar, with the same display size, the same lone button on the right-hand side, and the same strap mechanism. There are some key differences, though, and I prefer the Huawei version because of it. For starters, it's ever so slightly thinner, but the body is also slightly rounder, which I think looks more elegant. Huawei also offers more color variants of its band, with either golden or black variants of the metal frame along with four different strap colors (versus three for the Honor Band 6). Huawei also let me choose which color I'd get, and I love this orange Amber Sunrise model.
  The differences continue at the edges. The left-hand side of the frame is completely clean this time around, no Huawei branding in sight.
  Meanwhile, the right side has the same single button, but without any accent colors. I usually like accented power buttons, but I'm not a big fan of the red Honor typically uses, so I'm happy about this difference, too.
  The back is pretty much identical, housing the body sensors and the charging pins. You can also see that it uses the same strap mechanism.
  Over on the front, the 1.46-inch AMOLED display is also nearly identical to that of the Honor Band 6. It's the same size and resolution, though putting them side-by-side, the Huawei model seems to produce slightly warmer colors.
  A couple of things you'll be missing here are the support for automatic brightness and always-on displays. I don't mind the latter point at all, personally, but I know some people like it. Automatic brightness can be useful, though I find the medium brightness level to mostly work well enough both indoors and outdoors.
  Overall, I was already a big fan of the compact design and big display of the Honor Band 6, and it feels more refined on this watch, so it definitely gets a thumbs-up from me.
  Fitness and health tracking
  For general health tracking, the Huawei Band 6 covers all the basics, with 24/7 heart rate and stress monitoring, sleep tracking, and female cycle tracking (if it applies to you). One big advantage that this smart band offers versus the Honor equivalent is all-day SpO2 monitoring, and it's actually the first time I see any wearable offer this. Usually, you have to measure your SpO2 levels manually every time, but Huawei made it work throughout the day, which makes this feature much more useful. However, it still requires you to be relatively still for the measurement, so there will be some prolonged periods without measurements if you're constantly on the move.
  One thing to note if you're using a non-Huawei or Honor smartphone is that the Huawei Health app on the Google Play Store hasn't been updated in months. You'll need to find the latest APK files elsewhere on the internet for this feature to light up - but phones with access to the Huawei AppGallery can just update the app through there.
  There are more advantages to the Huawei Band 6, though, as it can track up to 96 exercise modes, which is a huge step up from the 10 modes supported by the Honor version. In fact, this number is the same as what's supported on the Honor Watch ES, which was much more expensive when it launched and is also significantly bigger. That model also offered guided workout routines, though, which you don't get here.
  The Huawei Band 6 still doesn't have a GPS, but one thing I learned during my review period is that if you have a Huawei phone, these watches can in fact pull your location from your phone automatically. It just doesn't work with other phone brands, and in that case, the "outdoor cycle" workout mode is hidden from the watch UI, and you have to start it from the Huawei Health app on your phone. What's annoying is that this doesn't happen for other outdoor workouts, like running and walking. You can start those from the watch, but it won't register any movement, so the workout isn't saved.
  In terms of health tracking, I found that the Huawei Band 6 is a bit more responsive to changes in my heart rate compared to the Honor sibling. I wasn't sure of this when I first reviewed it, but that model has a tendency to get stuck on the same value for longer, and sometimes it showed me very irregular values, like over 130bpm while I'm sitting at my desk. The Huawei version updates more quickly, both throughout the day and during workouts, and thus paints a more realistic picture.
  You can also sync your health data with Google Fit, which I like to do, but only some types of exercise are registered there. When I register a Ring Fit Adventure session as cross fit, it doesn't sync to Google's service, for instance.
  Software and battery life
  The Huawei Band 6 runs the same OS as most other Huawei and Honor smartwatches, including the Honor Band 6. That's a big jump from previous generations of the smart bands, though, which had simpler and less animated interfaces to fit the smaller screen. There's a myriad of watch faces available for the Band 6 so you can have it suit your preference.
  Swiping left or right from the watch face will show you widgets like your activity rings, heart rate monitoring, and so on, and you can customize those through the band's settings. You also get the usual slew of "apps" by pressing the side button, which are:
  Workout
  Workout records
  Heart rate
  SpO2
  Activity records
  Sleep
  Stress
  Breathing exercises
  Music
  Weather
  Notifications
  Stopwatch
  Timer
  Alarm
  Flashlight
  Remote shutter (requires a Huawei/Honor phone)
  Find phone
  Settings
  The software is very simple and somewhat limited in what it can do, but that helps it achieve incredible battery life. Something like Wear OS has many more smart features, support for apps from the Play Store, and so on, but you can pretty much only use a Wear OS watch for one day before charging again. The Huawei Band 6 promises up to 14 days on a charge for average users, and 10 days of intensive use, which is about what I got. That's with some firmware updates in there, almost daily exercise tracking, and continuous heart rate, stress, sleep, and SpO2 monitoring. It's great to not have to worry about charging nearly as often.
  I've said a few times already that I still prefer having the smart features of Wear OS at the expense of battery life, but I'm starting to change my tune a bit. Wear OS has become incredibly frustrating for me because it requires me to reset my watch every time I need to use a different phone for a review, and whenever I reset it, it's a gamble what kind of experience I'll get. It may work flawlessly or it may have some weird bug that can only be fixed by resetting again. I appreciate how easy it is to pair the Huawei Band 6 (and other Huawei/Honor wearables) with a different phone without losing anything.
  Conclusion
  At first glance, the Huawei Band 6 doesn't seem to stand out that much from the device I reviewed a couple of weeks ago, but once you dive into it, there are a few advantages that make this easily a better device. The design overall is better and you get more color options to boot, it offers far more exercise modes if you need more advanced tracking, and it adds all-day SpO2 monitoring, which is completely new for a Huawei/Honor wearable. On top of that, heart rate monitoring just seems slightly more accurate here.
  At €59.99 in most European markets, the official price of the Huawei Band 6 is €10 above that of its Honor equivalent, but I'd say the advantages it has easily justify the price increase if you're in the market for a somewhat affordable wearable. Feature-wise, there's no disadvantage for the Huawei version, and even if you're only looking for the basics right now, a small step up in price can help you future-proof yourself if you want to get more serious about fitness later.
  You can buy the Huawei Band 6 from Huawei's website, though prices vary by country. In most European countries, it costs around €59, while others go up to €69.99. In the UK, it can be had for £59.99. You can also check out our review of the Honor Band 6 if you'd like to compare them,
  Compare Deals