After the truly tiny update that was iOS 15.3 , we've now got iOS 15.4 , and thankfully this is a much, much bigger update for Apple's operating system.
There are several big included features, such as the long-awaited Universal Control, along with Face ID functionality with a mask. There's also new emoji, a new Siri voice, and more.
So this is a packed update, and below we've detailed everything you need to know about iOS 15.4, including the features and compatibility.
Cut to the chase
iOS 15.4 release date and compatibility
iOS 15.4 landed in finished form on March 14, 2022, so it's available now. For help in getting it, check out our how to upgrade iOS guide.
As for compatibility, it's exactly the same as every other version of iOS 15 , meaning that if you're on iOS 15 or above you'll be able to get iOS 15.4 as well. Specifically, that's all handsets from the iPhone 6S onwards, including the iPhone SE (2020) and the original iPhone SE, plus the iPod touch (7th gen) .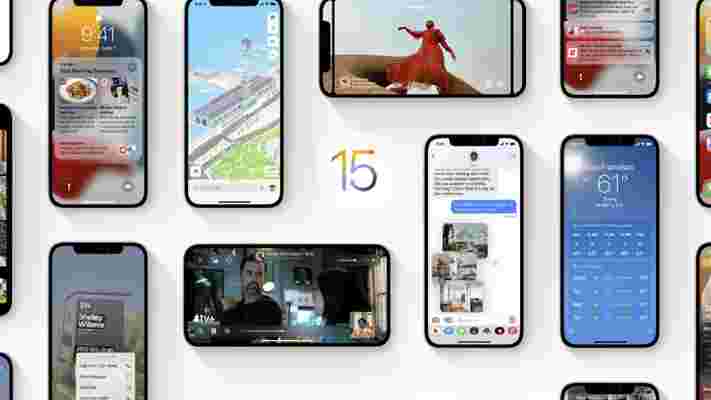 iOS 15.4 features
There are a bunch of new features and improvements in iOS 15.4, and we've detailed them below.
Face ID with a mask
The Covid-19 pandemic presented a problem for iPhones, as with the whole world suddenly wearing masks, Face ID wasn't always viable. Apple addressed this problem a while back by allowing your iPhone to unlock if you were wearing an Apple Watch , but with iOS 15.4 it has properly fixed the issue.
iOS 15.4 allows you to set Face ID to work even when you're wearing a mask , by having it just scan the visible parts of your face, such as your eyes.
Apple warns that this is less accurate, and we'd assume also less secure, but it's a way to properly use Face ID with a mask on. It's also optional, so if you'd rather keep doing things the current way, you can disable this feature. Note however that this only works with the iPhone 12 and above.
Universal Control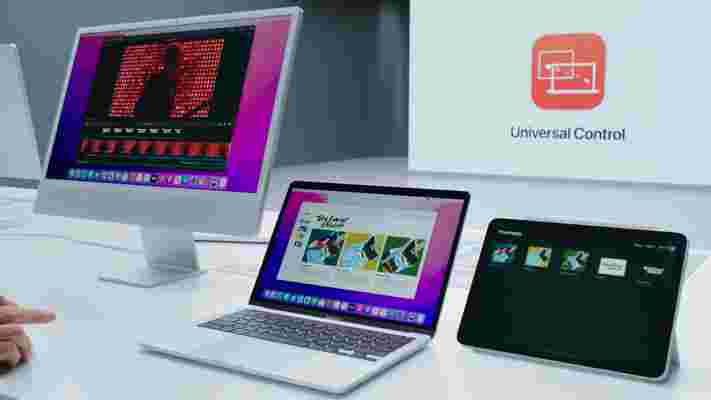 Universal Control is technically more of an iPadOS 15.4 feature than an iPhone one, as it allows users to connect an iPad to a Mac and use a single mouse and keyboard across both devices, with the iPad's display being like an extension of the Mac's.
This feature has been a long time coming, as we first heard about it back at WWDC 2021, but it's finally arrived in iPadOS 15.4.
New emoji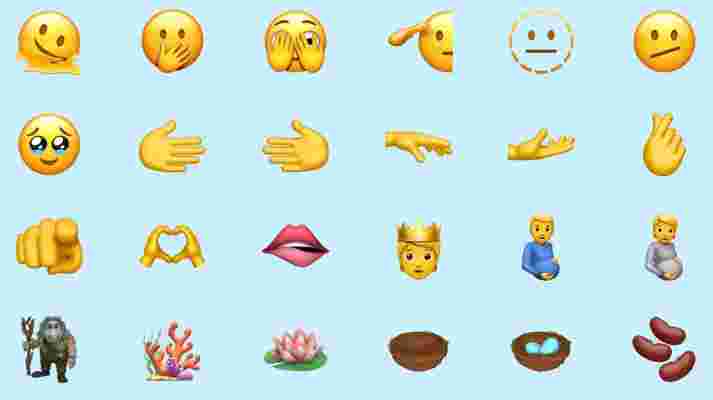 If, somehow, you feel that there just aren't enough emoji yet, then iOS 15.4 could help, as the update includes 37 new ones , along with 75 skin tone variations for better inclusivity.
New emoji, some of which you can see above, include a biting lip, a melting face, heart hands, and many more.
Anti-stalking measures for AirTag
Apple has a whole range of measures planned to prevent unwanted AirTag tracking , and the first of those have arrived in iOS 15.4. These include a warning when setting up AirTag that using one to track someone unknowingly is illegal, and that AirTag is designed to be detectable and for law enforcement to be able to link it to the owner.
It also includes clearer identification of devices, so you shouldn't get any 'Unknown Accessory Alerts'.
A new Siri voice
iOS 15.4 also includes a new voice for Siri . This is a fifth option under the 'American' category. So it's an English language voice, and specifically in a US accent. This is a female voice, and you can hear a sample of it below.
Siri can also now provide time and date information while you're offline on devices from the iPhone XS , iPhone XR , iPhone 11 and onwards.
Tap to Pay
Apple recently announced plans for a Tap to Pay feature , which would turn your iPhone into a contactless payments terminal, and iOS 15.4 adds frameworks for developers to enable this service in their apps.
Other features
Beyond the features above, all sorts of smaller tweaks and improvements have also been included in iOS 15.4.
These include the ability to initiate SharePlay sessions directly from supported apps, use the camera to add scanned text to Note and Reminders, translate Safari web pages to Italian or Chinese, manage iCloud custom email domains from Settings, use Shortcuts to add, remove, or query tags with Reminders, and add notes to saved passwords in Settings.
There are also now episode filters for seasons, played, unplayed, saved, and downloaded episodes in the Podcasts app, better visibility for audio content in the News app, and the Magnifier app now uses the iPhone 13 Pro and iPhone 13 Pro Max 's ultra-wide camera to help you see small objects.
Plus, those in the EU can now add their Covid vaccine cards to the Wallet app, and the Emergency SOS feature now defaults to requiring you to hold the side button and a volume button to initiate a call to the emergency services whatever device you're using - though you can change this to requiring five rapid taps of the side or top button instead.
Bug fixes
New versions of iOS almost always come with bug fixes, and iOS 15.4 is no exception. These include a fix for the keyboard inserting a period between typed numbers, one for News widgets in Today View not opening articles when tapped, a fix for photos and videos not syncing to iCloud Photo Library, a fix for the Speak Screen Accessibility feature quitting unexpectedly within the Books app, and one for Live Listen not turning off when switched off in Control Center.
Stop everything, Apple exec's tweet might've been an Apple VR Glasses demo
Did we just see a micro-mini demo of Apple's rumored AR Glasses? When Apple's head of global marketing Greg Joswiak tweeted on Wednesday the announcement of Apple's March 8 product event, he used the word "Peek," which is obviously about seeing something, and may have been our first hint.
However, if you turn down the music (Wonder by Yung Bae) and focus on the 15-second video, you'll notice something else.
The video opens with a shot of the Apple Theater stage at Apple Park in Cupertino, California. We've seen that stage in person, and it's clearly the real place. Floating above the stage is a translucent, 3D Apple logo that appears almost lit from above.
The logo is interesting because it appears to have a presence, like a physical object hovering where Apple CEO Tim Cook might normally stand (and probably will on March 8 ).
The camera pans and turns to keep the Apple Logo center frame. Unlike smooth, 3D render movement, there's almost a slight, human wobble. As the camera rotates more waves of logo graphics float forward and past the camera. If you look closely at the stage edge, you can see that the camera is not going into the logo. Instead, the imagery is coming toward it.
Finally, the camera moves forward past the edge of the stage and the imagery grows brighter and more intense, with different colored logos sliding past the viewer. Once the logo stops changing, it's clearly still on stage.
Is it Apple Glass?
What it all looks like, though, is a viewport from augmented reality glasses, more precisely, Apple Glasses .
Apple has never confirmed the long-rumored project, but we've had plenty of rumors over the years to whet our interest.
The key points are they could be lightweight and look a lot like normal eyeglasses, a feat only possible because the digital eyewear would push most processing off onto the iPhone in your pocket.
Assuming this video is a feed from the transparent OLED lenses we might expect to see in Apple Glasses, the video makes sense. You wouldn't see frames or feel like your field of view is narrowed.
There is also the possibility that this is a view feed from the more involved and rumored Apple Mixed Reality headgear. That headset might be a bit more like Microsoft HoloLens and put more of the components in the headset as opposed to an iPhone.
It's true, this is a big leap to take from a 15-second video, but Apple doesn't do anything by accident. The use of the work "Peek" in "Peek Performance" is intentional, as is every single frame of this video.
As if you needed more evidence, visit The Apple Events page using Safari on your iPhone or iPad. If you tap on the logo, you'll gain access to that same AR logo object and can view it floating in space in your home or office.
It's time to get very excited about Apple's March Event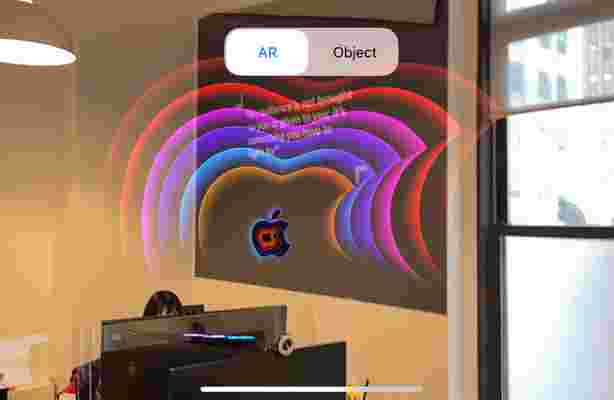 WhatsApp update is borrowing another feature from Messenger and Instagram
WhatsApp is testing a feature where you can react to a message with a heart emoji, similar to a feature in both Facebook Messenger and Instagram .
Meta owns all three of these messaging apps, yet there are users who don't have all of these apps installed on their devices. But there's a need for similar features across these apps, as long as they make sense, and reactions are a good example of this.
Reacting to messages is a useful way of replying to someone without typing out a sentence. It can inform the sender that you've seen the message, but you don't have time to reply to anything substantial as yet.
Currently in testing for the desktop app of WhatsApp in version 2.2208.1, you can try out the feature on Windows 11 and macOS .
Analysis: When features from other apps work well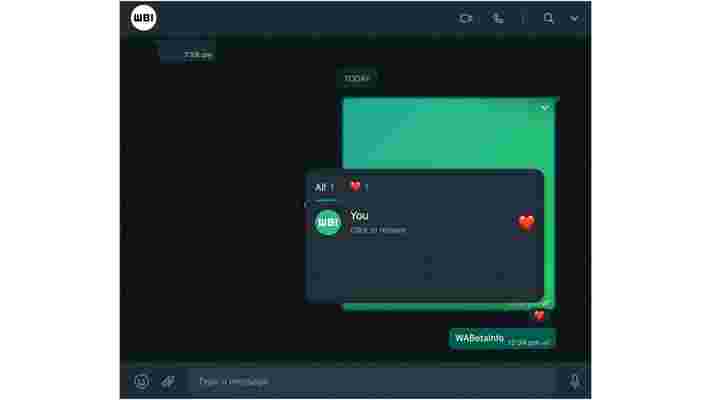 Instagram, Facebook, and WhatsApp all fall under the same umbrella as Meta, the parent company headed up by Mark Zuckerberg.
Every app either is a messaging app or has messaging features. But in some way, these are all used by its users, and some features work better on different platforms, from iOS to Windows.
Stories are a great example of this - they don't make sense for WhatsApp, yet it's on the app in the 'Status' tab. But for Instagram, it does make sense, and it works well for its users, as it's a great way of sharing photos and videos in short bursts.
For reactions, it's another feature where it helps to reply to a message quickly, without using your keyboard, and for WhatsApp it makes sense.
Taking features from other apps should only occur if they work towards the app's intended purpose, and with how a user interacts with the app in question.
While Stories didn't work for WhatsApp, reactions do, so it'll be interesting to see what other features from Messenger and Instagram carry across in the coming months.
Via WaBetaInfo